We are all used to our parents telling us 'Change your toothbrush' every 3 months, or finally realizing its time to throw away that dirty eyeliner at the bottom of your makeup bag. We never really talk about the importance of changing out our skincare too. Changing your skincare products every season is a good way to prevent bacterial growth and provide your skin with everything it needs to stay healthy.  
Environmental factors do play apart on your skin, so it only makes sense that weather changes will affect the type of products or treatments it needs. Although it does not get too cold in the fall or winter in Florida, the air does become drier starting in October. It is important to use the climate in your area as an indicator of when to swap your products. Follow these tips from Michael Todd Beauty on how to properly transition out of your summer skincare routine for the fall.  
Tip 1: Start Using Sulfate Free Cleansers 
As the temperature starts to drop, so does the humidity in the air. This can cause your skin to dry out quickly. Most cleansers or toners use harsh chemicals and ingredients which strip the skin of their natural oils, causing even more dryness and irritation to the skin. Which might seem fine during the summer when you have excess oil on your skin, but not during the cooler seasons. Having a sulfate-free cleanser in the fall time will help reduce harsh cleansing, protect your skin from irritation, and keep it hydrated. Dry spots? Not me, never heard of them!  
Tip 2: Start Using Eye creams and Serums  
Who here is an eye cream fan? The skin around the eyes is more fragile, and more prone to dryness. Eye creams are essential during the harsh fall and winter winds—we recommend picking an eye cream suitable for your skin type. Melissa Posin, master esthetician, says "some people's skin type also changes with the season. For example, some produce more oil in the summer and tend to be drier in the winter. Locking in that hydration around your eyes in the colder months is key".  
Tip 3: Swap in some hydrating masks  
We are already experts on knowing the cooler seasons dry your skin out. So, adding a hydrating mask into your routine is the best way to relax while taking care of your skin. In the summertime, detox masks are best as oil production tends to be higher in the hotter climates. When the weather becomes cooler, hydrating masks are a great way to retain moisture and increase water content. These masks can be made easily at home with 4 simple ingredients: honey, watermelon, and potatoes!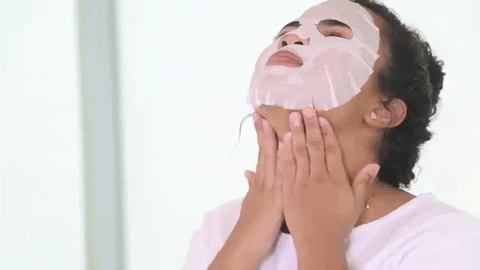 Tip 4: Start using oil-based and creamy products 
To keep your skin consistently hydrated, we need to do more than just drink a ton of water. Switching over to facial oils or creamier consistency moisturizers at night can help lock in the hydration during the fall months. Cleansing oils are also a great swap out for traditional face wash during the Fall to prepare your skin for the cooler, drier weather. You can also try double-cleansing for added hydration. The first cleanser should be oil-based, and the second should be water-based. 
Tip 5: Use natural ingredients to soothe skin 
Getting dry patches on your skin can be distracting and unpleasant. Luckily, using products that contain cucumber, aloe, or chamomile can soothe your skin and prevent dry patches from your face! You can even try adding Vaseline after skincare applications to hold in the moisture. We recommend using the SonicEraser Pro to help infuse your products and get them to a deeper level of the epidermis, maximizing their benefits.